OPERATING A FARMERS MARKET IN THE AGE OF COVID-19  
GUIDANCE FOR CUSTOMERS AS PER NYSDAM
YOU MUST WEAR A MASK or FACE COVERING TO ENTER THE MARKET

INDOOR MARKET - YOU WILL BE TEMPERATURE CHECKED PRIOR TO ENTERING



PLEASE WASH YOUR HANDS OR USE HAND SANITIZER UPON ENTERING THE MARKET. Hand sanitizer is available for your use. There is also a bathroom available for hand washing.

PLEASE OBSERVE ONE WAY TRAFFIC. YOU CAN GO BACK AROUND IF YOU WANT TO REVISIT A VENDOR.
YOU MUST ADHERE TO SOCIAL DISTANCING PROTOCOL -  6 FEET FROM VENDORS AND OTHER SHOPPERS
YOU MAY BE ASKED TO WAIT AT THE ENTRANCE TO ENTER THE MARKET IF THE MARKET IS AT CAPACITY. PLEASE OBSERVE SOCIAL DISTANCING WHILE WAITING (LOOK FOR MARKINGS)

ONLY ONE CUSTOMER/POD AT A TIME AT EACH VENDOR BOOTH
You must wait at least 6 feet behind the person in front of you. (Look for markings)

WE ENCOURAGE CASHLESS, NO TOUCH TRANSACTIONS (If cash, give exact change or round up if possible.)

PLEASE ALLOW THE VENDORS TO SERVE YOU. If you touch products, please use hand sanitizer or don new gloves first.

WE ENCOURAGE YOU TO SHOP ALONE. PLEASE DO NOT SHOP WITH FRIENDS OR OTHER FAMILY MEMBERS. IT IS IMPORTANT AT THIS TIME TO MOVE AS QUICKLY THROUGH THE MARKET AS POSSIBLE

WE ENCOURAGE YOU TO PREORDER FROM YOUR FAVORITE VENDORS ONLINE AND SIMPLY PICK UP YOUR ORDER(S) AT THE MARKET OR OPT FOR CURBSIDE DELIVERY.



DO NOT COME TO THE MARKET IF YOU ARE NOT FEELING WELL.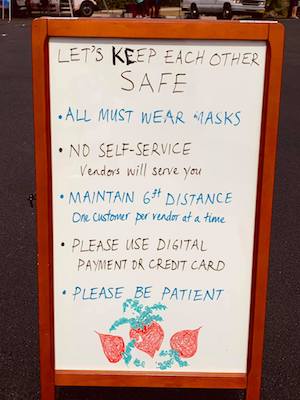 Website and Online Farm Store Powered By
Eat From Farms